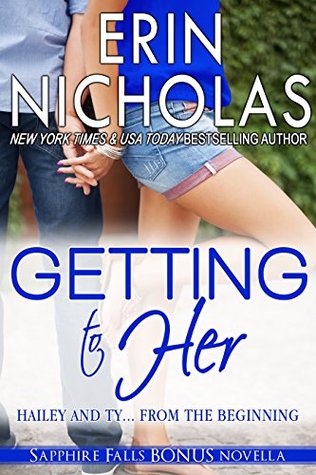 See where it all began between Hailey Conner and Ty Bennett!

This is a novella that adds to the story in book six of the Sapphire Falls series, Getting Over It.
You do *not* need to read this novella to enjoy the novel. This is strictly bonus content!

It can be read before or after that book, but it is not a stand alone story. You've been warned :)

Dear Reader,

I knew from the first chapter of book one in the Sapphire Falls series that Hailey Conner was going to have a story. And I knew, as soon as I typed the words "Tyler Bennett is such an ass" that it would be with Tyler Bennett! Over the next five books and two novellas, their story developed and I realized that it was just as big as these two personalities.

Before I typed one word of Getting Over It, their current day love story, I knew that there was more about their story that readers would want to know and I planned to write this novella about how it all started.

All of this happens before you see them love, fight, laugh, cry and finally figure it out in Getting Over It. Even though I knew all of this happened in the past, I wrote the book first. And when it was all said and done, I realized that reading about their now and their future would make people even more curious about their past. So technically Getting to Her comes before Getting Over It, but it can definitely also be read after.

Either way, I think you'll agree that these two have worked hard to get to their happily ever after.

One of the best surprises in life, in my opinion, is finding out there's more to the story.

Happy Reading!
Erin


The Sapphire Falls series (in order):
Getting Out of Hand, book 1
Getting Worked Up, book 2
Getting Dirty, book 3
Getting In the Spirit, Christmas novella
Getting In the Mood, Valentine's novella
Getting It All, book 4
Getting Lucky, book 5
Getting to Her, novella, book 6 companion
Getting Over It, book 6
Reviews
This little gem of a novella is absolutely brilliant, its Ty and Hailey from start to finish. A definite must read for Sapphire Falls fans and newbies, it gives us all the little snippets between them from Getting Out Of Hand all the way up to Getting Lucky. Had me on the edge of my seat the whole way through. We get to see how Ty has gained his cocky confidence side and how Hailey was raised, her family life growing up and how that has made her hard today.
If you are looking for a funny sexy read this will definitely keep you going until your next Sapphire Falls fix.
What People Are Saying
"Tyler and Hailey are so hot together"
"Great Surprise!"

"I so cannot wait for the fire works"